If you've found yourself on Santa's naughty list this Christmas, don't get too down in the dumps. There's a present specially made for those who prefer to walk on the wild side. Revealed earlier this year on Pier 94 at the New York Auto Show, the 2018 Dodge Challenger SRT Demon is every daredevil's dream come true.
This highly anticipated addition to the Dodge lineup reared its beautiful head and revved its engine to the delight of many patiently awaiting fans in early April 2017. What makes this Challenger such a step up from its predecessors? Three words: power, performance, and pricing.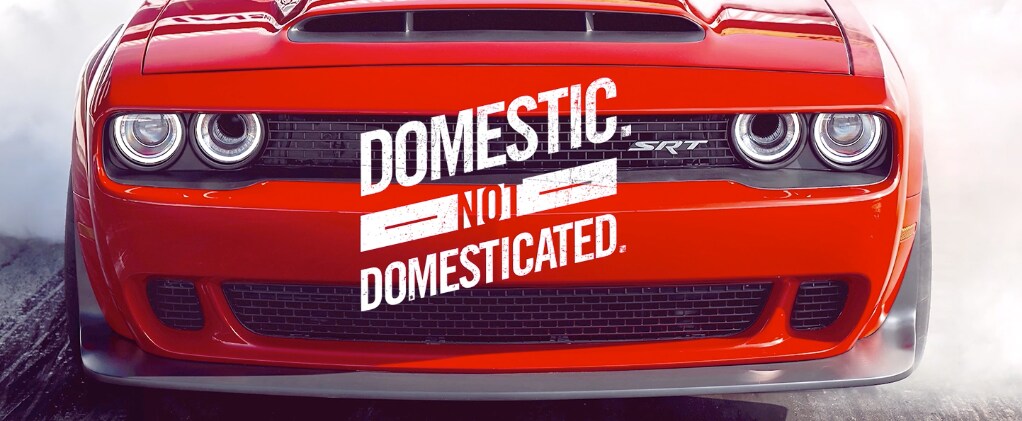 Power
Not only does the 2018 Dodge Demon boast 840 horsepower, this speedy spectacle can hit 60 miles per hour in just 2.3 seconds, making it the fastest production car in the world. With a 6.2-liter Hemi Demon V8 engine that can produce 770 pound-feet of torque and has a higher rev limit of 6,500 rpm, this machine can travel a quarter mile in just 9.65 seconds. This time was confirmed by the National Hot Rod Association (NHRA) and was promptly banned from being allowed to participate in drag racing. Its undeniable power would make all other competitors seem precious in comparison (including its close cousin, the Dodge Hellcat).
Performance
According to Tim Kuniskis, CEO of Dodge, the 2018 Demon was built with drag racing in mind.
"We wanted to build a car for the NHRA, not the PTA," he said at the official unveiling. "It would have been easy to take a Hellcat and make it faster. But we didn't want to do that."
In order to accomplish this, Kuniskis and the team of engineers and designers worked together to bring their fierce vision to fruition. This model weighs 200 pounds less than its Hellcat derivative with more lightweight materials like aluminum calipers and open end lug nuts. But perhaps the most drastic weight change comes from its stripped interior. No backseats. No passenger seat. Limited carpeting and sound insulation. Just the driver, the steering wheel, and an insatiable need for speed.
Chassis changes were also made to this model with looser front suspension, firmer rear springs, and massive somehow-street-legal drag radials combining together for a thunderous launch off the line.



Pricing
You're probably thinking with power and performance like this, you'll be paying for a Demon with your very soul. But Dodge vowed to make this dangerous beauty accessible to all thrill-seekers. Priced at just $84,995—a steal for this kind of powerhouse—purchasing a 2018 Dodge Challenger SRT Demon also earns you a free day of driver training Bob Bondurant School of High-Performance Driving.
With only 3,000 models available in the U.S., however, you'll have to act fast or just pray you get to see one being towed to your local track.
Have the Demon's specs intimidated you? Fear not. Here at Larry H. Miller Dodge Ram Tucson, we have plenty of tamer 2018 Dodge Challenger models to choose from in our inventory. Unleash the beast within this holiday and take a ride in one of the best performance vehicles around. The lumps of coal under your tree won't look so bad when you've got a killer decoration for your driveway.