MOPAR has been around longer than most of us have been alive. It was first introduced as slang in the 1920s (motor + parts = MOPAR). In 1937, the official "MOPAR" brand was created by a committee at Chrysler to label cans of antifreeze from "Chrysler Motor Parts." Since then, it has become the name associated with Abarth, Alfa Romeo, Chrysler, Fiat, Fiat Professional, Jeep, Lancia, Maserati, and our favorites—Ram Trucks and Dodge.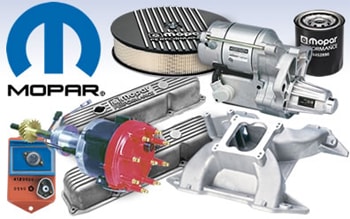 While MOPAR is still the official brand of parts for FCA, it has also taken on a whole life of its own. To many, it's also used to describe a segment of muscle cars—to MOPAR fanatics, it means Chrysler's best of the best, their cream of the crop. These cars need the look—that is, the unique styling that sets them apart from the rest. That means the Dodge Charger and Challenger.
The relationship between the brand as an arm of FCA purposed with providing parts and being used as a term to describe muscle cars seems a little random. Not so fast. Since MOPAR's inception, they have been involved in performance racing. They have sponsored NASCAR racers such as Jimmy Hensley and Kasey Kahne. They are also involved in Formula D racing and drag racing. The Mopar Mile-High NHRA Nationals takes place each year in Denver and is the longest-running sponsorship in drag racing.
While the parts giant doesn't have dedicated assembly lines, they arguably have something more exclusive. There are 13 MOPAR Custom Shops in the U.S. that install accessories for customers before the new vehicle is delivered to the customer. What's also cool to note is that there are limited-edition MOPAR versions of FCA vehicles. These highly rare and sought after vehicles include exclusive performance features, paint colors, and modifications.



Larry H. Miller Dodge RAM Tucson is excited for 80 more years of working alongside MOPAR in order to offer the best customer service possible from the second we welcome people into the dealership and, most importantly, for many miles to come. If you're in the market for some awesome MOPAR parts, make sure to check out the awesome specials we have listed on our website right now!