Hours
Monday

09:00AM - 08:00PM

Tuesday

09:00AM - 08:00PM

Wednesday

09:00AM - 08:00PM

Thursday

09:00AM - 08:00PM

Friday

09:00AM - 08:00PM

Saturday

09:00AM - 07:00PM

Sunday

Closed

Larry H. Miller Dealerships Raises $450,000 During 8th Annual Golf Classic - June 2019
Since 2012, more than $1.9 million has been raised for qualified nonprofits with giving focused on women and children.
SALT LAKE CITY (June 20, 2019) - Employees of Larry H. Miller Dealerships, along with 85 vendors and business partners raised a record amount at this year's Larry H. Miller Dealerships Golf Classic. During a post-tournament dinner at Hidden Valley Country Club in Sandy, Utah, the dealership group presented a $450,000 check to Larry H. Miller Charities, the charitable arm of Larry H. Dealerships. 

 

"The funds raised at the 2019 Golf Classic will be distributed to charities in the seven states where Larry H. Miller Dealerships does business and will focus on programs that serve women and children with an emphasis on health and education," said Jay Francis, executive vice president, corporate affairs & Miller Family Philanthropy. "These funds alone will help more than 60 nonprofit organizations, and when you add in employee and business contributions, we will contribute to nearly 100 charitable groups."
Larry H. Miller Charities in Tucson

Larry H. Miller Charities (LHM Charities) is a nonprofit foundation that was formed in 1995 and functions as the charitable arm of the Larry H. Miller Group of Companies. Funds granted from this foundation are directed toward charitable programs in the communities where the Larry H. Miller companies do business, emphasizing health and education and focused on issues that affect women and children.

Funds are generated through employee contributions and matched by LHM Charities to double the impact in the local community.

The Tucson subcommittee was formed when the Larry H. Miller dealerships came to Tucson in April of 2013. And for the past six  years, this Larry H. Miller Charities subcommittee has been able to help many organizations right here in the Tucson community.


Larry H. Miller Dodge Ram Tucson also locally supports many other worthwhile events such as the 4th of July celebration on the Davis-Monthan Air Force Base, The Erik Hite Foundation Touch-A-Truck Family Festival, The Tucson Rodeo, The Tucson Home & Garden Show and the Tucson Gem & Mineral show.

---
Here's a slideshow with some of the donation photos we've collected over the years. We look forward to many more! If you'd like more information about any of the Tucson community charities we've donated to, please click their name in the list on the right to learn more about them, to make your own donation or to find volunteer opportunities.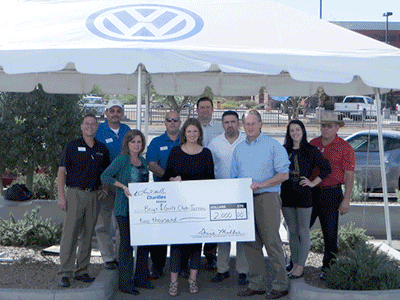 BOYS AND GIRLS CLUB

FRIENDS OF SAGUARO NATIONAL PARK
LITERACY CONNECTS
CAMP SOARING EAGLE
KELLOND ELEMENTARY PTO
NOURISH
OLD PUEBLO CHILDREN'S SERVICES
SALVATION ARMY
SHOP WITH A COP
SPECIAL OLYMPICS AZ
SYMPHONY WOMEN'S ASSOCIATION
YOUTH ON THEIR OWN
CAMP J (JCC)
THE HAVEN
Thank you for visiting our Larry H Miller Charities Tucson page!
For local contact names and donation request guidelines, please download the PDF here.