---
Here's a slideshow with some of the donation photos we've collected over the years. We look forward to many more! If you'd like more information about any of the Tucson community charities we've donated to, please click their name in the list on the right to learn more about them, to make your own donation or to find volunteer opportunities.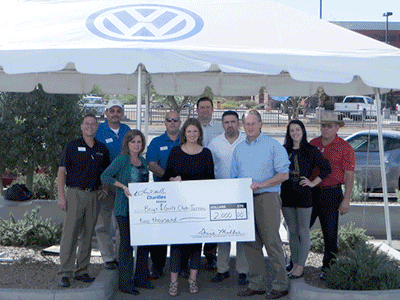 BOYS AND GIRLS CLUB

FRIENDS OF SAGUARO NATIONAL PARK
LITERACY CONNECTS
CAMP SOARING EAGLE
KELLOND ELEMENTARY PTO
NOURISH
OLD PUEBLO CHILDREN'S SERVICES
SALVATION ARMY
SHOP WITH A COP
SPECIAL OLYMPICS AZ
SYMPHONY WOMEN'S ASSOCIATION
YOUTH ON THEIR OWN
CAMP J (JCC)
THE HAVEN
Larry H. Miller Charities in Tucson

Larry H. Miller Charities (LHM Charities) is a nonprofit foundation that was formed in 1995 and functions as the charitable arm of the Larry H. Miller Group of Companies. Funds granted from this foundation are directed toward charitable programs in the communities where the Larry H. Miller companies do business, emphasizing health and education and focused on issues that affect women and children.

Funds are generated through employee contributions and matched by LHM Charities to double the impact in the local community.

The Tucson subcommittee was formed when the Larry H. Miller dealerships came to Tucson in April of 2013. And for the past six  years, this Larry H. Miller Charities subcommittee has been able to help many organizations right here in the Tucson community.


Larry H. Miller Dodge Ram Tucson also locally supports many other worthwhile events such as the 4th of July celebration on the Davis-Monthan Air Force Base, The Erik Hite Foundation Touch-A-Truck Family Festival, The Tucson Rodeo, The Tucson Home & Garden Show and the Tucson Gem & Mineral show.

Thank you for visiting our Larry H Miller Charities Tucson page!
For local contact names and donation request guidelines, please download the PDF here.
Local Community Involvement
Larry H. Miller Dealerships has a strong legacy of giving back to communities where it does business. Through its charitable organization, Larry H. Miller Charities, more than $9 million has been donated to qualified nonprofit organizations since 1995.
Larry H. Miller Tucson Dodge Ram - 2020 A Year of Giving
As a group, Larry H. Miller brought thousands of dollars together to help give back to our local communities, but for some stores, we were able to reach out individually to give back to the community of Tucson! We aren't limited by one year of giving back. As part of Larry H. Miller Automotive, we will continue to support and be a helping hand in our community for many years to come!
$5,000 donation to Big Brothers Big Sisters of Southern Arizona. The donation will help fund the organization's "Big-Little" mentoring program, which pairs stable adult role models with children and youth who are most in need.
$5,000 donation to Banner University Medical Center Diamond Children's Hospital. The donation will go toward the hospital's "Beads of Courage" program, which allows children to visually translate their treatment experience through different colored beads. Over time, the collection of their beads becomes a visual illness narrative that the child can use to commemorate and celebrate their courage.
$5,000 donation to Youth on Their Own. The organization supports youth in grades 6-12 experiencing homelessness in Pima County with the goal of graduating from high school. The funds will support students via academic stipends, basic human needs, bill assistance, and transportation assistance.
Larry H. Miller Dealerships Sells Its Two Millionth Car
Larry H. Miller Dealerships reached a milestone on Monday, January 28, 2019, when it sold its two millionth vehicle. Customers Don and Janine Edwards purchased a 2019 Honda Pilot at Larry H. Miller Honda Murray, marking a company milestone nearly 40 years in the making.
"In 1979 when we bought our first dealership, Larry and I could not have imagined selling 2,000,000 cars, but today we are celebrating that milestone," said Gail Miller. "We are grateful for the growth and success of our company and recognize the hard work and dedication of our employees and the continued support from our customers and the communities where we do business."
Larry H. Miller Dealerships Raises $450,000 During 8th Annual Golf Classic - June 2019
Since 2012, more than $1.9 million has been raised for qualified nonprofits with giving focused on women and children.
SALT LAKE CITY (June 20, 2019) - Employees of Larry H. Miller Dealerships, along with 85 vendors and business partners raised a record amount at this year's Larry H. Miller Dealerships Golf Classic. During a post-tournament dinner at Hidden Valley Country Club in Sandy, Utah, the dealership group presented a $450,000 check to Larry H. Miller Charities, the charitable arm of Larry H. Dealerships. 

 

"The funds raised at the 2019 Golf Classic will be distributed to charities in the seven states where Larry H. Miller Dealerships does business and will focus on programs that serve women and children with an emphasis on health and education," said Jay Francis, executive vice president, corporate affairs & Miller Family Philanthropy. "These funds alone will help more than 60 nonprofit organizations, and when you add in employee and business contributions, we will contribute to nearly 100 charitable groups."